Marian Mueth: One of the Best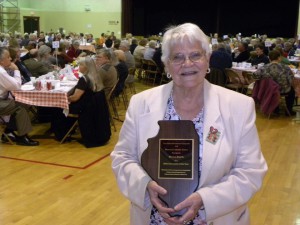 For 33 years Marian Mueth taught 2nd graders because, as she says, "They could be motivated so easily.  I loved their
exuberance."
For much longer, Marian has "lit the fire" for Western Catholic Union Branch 251 in Belleville.   In March, she was named a Fraternalist of the Year by the Illinois Fraternal Alliance, at its annual meeting in Springfield, IL.
It's volunteers like Marian Mueth who inspire all fraternal members to give back to their communities.  Still, at the age of 84, Marian sets an example for  young and old.  For many years she's organized a Mystery Dinner fundraiser for the St. Vincent DePaul Feeding Program, and this year's event was one of the biggest ever, raising more than $30,000.
She's been a member of WCU for nearly 66 years, holding the office of Branch President for more than 20 years.  She continues to help fundraising efforts for Daughters of Isabelle, the Don Bosco Children's Center, Right to Life, and American Legion Auxiliary, and Marian continues to volunteer at "Our Lady of Snows," is a representative for Diocese and Deanery Council of Catholic Women at "Our Lady of Peace," and has been singing in her church choir for 30 years.
Marian may be slowing down a bit, but that's like "slowing down" to driving 95 miles per hour.  She's in her ninth year as a Sales Assistant at McBride and Sons Construction and in her free time loves to bowl and swim.
She's the "Timex watch of WCU"-she takes a licking but keeps on ticking!