The Future is Now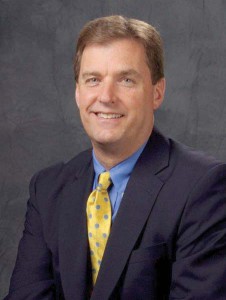 "It all comes down to one word – sustainability."
Those are the words of the President and CEO of the American Fraternal Alliance, and Joe Annotti knows that fraternal organizations face a tall task to ensure future growth.
"Every alliance member is facing the problem of an aging membership base," Annotti said. "If we want to help members remain vibrant, growing, relevant organizations that secure the financial future of millions of families and enhance the quality of life across the country through engagement in meaningful community service activities, then we've got to attract younger consumers."
Annotti visited the Western Catholic Union home office in Quincy, Illinois, recently.  As he's done with many of the AFA's members, he learned more about our operation, our hurdles, and solutions.  Just like many other fraternal societies, WCU can prosper by attracting active, younger members. "I am not talking about teenagers or 20-somethings, Annotti said." I'm referring to folks in their 30's who are starting families and looking for someone to help them plan their financial futures. That means we have to speak to them on their own terms – using social media instead of a monthly branch meeting, for instance – and offer them products, benefits, and community service
opportunities that make sense to them."
WCU branches and active members have a charitable history worth continuing. In the past five years, WCU branches have held 844 activities that the organization has supported with $393,971 in Matching Funds, helping the branches raise $2,335,457 for local charities. Who would provide this community support if our branches withered away? Each WCU member needs to ask, "Will my branch still be active in ten years?"
"It's an old-fashioned business model – not-for-profit, member-owned, community-based – that is as relevant today as it was 125 years ago," Annotti said. "We have a blank slate – a golden opportunity to reinvent the system. It can't get much more exciting than that!"
It's important to remember that the younger people in our communities are just as interested in supporting our churches and schools, to help feed the hungry, or support our other charities. However, many are also too busy to attend lengthy meetings. New members may want to do things differently than we've done before.
"Lodges were the original social networks," Annotti explains. "They were a way for people to communicate with each other – and for organizations to communicate with members – to socialize and to do good works. There are a litany of reasons why that model no longer works as effectively in 2013 as it did in 1913 – television, eroding ethnic and religious bonds, a much more mobile population, Facebook and other electronic media. So while there will always be a need for people to gather, the way they gather has fundamentally changed. As a result, our local member networks need to change, too. On-line branches, "event-based" meetings (where members come together for a specific community service activity, rather than a once-a-month meeting to vote on issues most young people would consider irrelevant), streamlined governance – we have to consider all those features as we reinvent our chapter networks."
Western Catholic Union was established in 1877, and its fraternal mission remains strong today. Last year, branches raised $496,324 for local charities. Without fraternal benefit societies like WCU, many volunteer services and financial support our neighbors receive would never be replaced. "WCU's faith-based bond gives it a very clear fraternal mission and the organization is using this to rally its current members and attract new ones," Annotti said. "I am very impressed with the changes the society had made to its governance structure and product offerings, and the way it ties-in its financial and fraternal activities. Members need to know that the money earned from financial services operations provides the fuel for the social mission. We don't need to hide that fact; we need to celebrate it.'