Doing A Lot With Very Little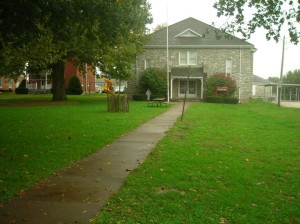 Written in January 2010
If you want to drive from New Orleans to St. Paul, or from New York to L.A., you won't go through Brussels, IL.
In fact, if you're on the way to any place, the road won't go through this town.
Because when you get to Brussels, the road ends.  Only a ferry will take you further south, across the Mississippi River.
It's not the end of the world for the locals, but the beginning.
It's where you can still hear a whippoorwill, and smell any freshly-baked pie in town.  It's where people learn to appreciate quality of life.
Slowly, the road has taken more people out of Brussels than in. The town is down to only 141 residents, according to the 2000 census.  It could be even lower today.  How much longer will Brussels be able to support a public and private school?  St. Mary School now teaches 50 students in grades 1-8.
While the town's population shrinks, so does school enrollment, and the local branch of Western Catholic Union hopes to keep spirits high.  All the WCU branches help support their local churches and schools, but that effort may be more crucial in Brussels than place else.
"We have a very small community here and we are struggling to keep both our Catholic and public school open.  So fundraising is a necessity for us," said Nancy Kulp, WCU branch president.
"Especially in the current economic environment, all schools, public and private, are highly challenged to pursue other avenues for funding," said Brenda Paynic, St. Mary School principal.
Like the community, the branch manages to do a lot, with very little.
So the community fights to keep the doors open.  In late February the annual benefit dinner and auction will raise enough money to help make ends meet.  Even the $500 matching fund check from WCU matters.  "If we lose our schools, our village will become a ghost town.  Most of our events come from being involved with the school. Catholic education is very, very important," Nancy said.  "We do not only have a solid source of education but the morals and ethics of a Catholic education create good and loving children which hopefully pass that on in their relationships."
"I believe in God and that there's a higher being," said Paynic.  "I love the freedom and luxury to discuss that openly and freely with our students and parents."
Inside the tiny school, you can even hear the students turn pages in their books.  They're learning.  They're happy.
And their parents, the community, and Branch 208 of Western Catholic Union plan to keep it that way.
Maybe the road ends in town, but these families know a quality education will send their children down that road to a better life.