Gene Grawe Fund Helps Nearly 500 Families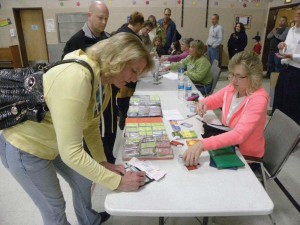 Every time JoAnn Witte's phone rings, she knows that good things are happening.
Even then, sometimes she has to just let it ring and ring. It's a full day just coordinating all of her
volunteers to make sure gift cards are always available through the Gene Grawe Fund. It's this dedication that has allowed JoAnn to build the program to the huge success it is today. Funds generated by the fund help provide tuition assistance to hundreds of Quincy, IL, families each year.
Thanks to the year-long effort to purchase these gift cards from hundreds of retailers, $124,250 is being distributed to help nearly 500 Quincy families off-set some of the costs of Catholic school tuition next year. That is $250 per family. But that number may pale in comparison to what families may be able to earn next year, according to JoAnn Witte, Director of the Gene Grawe Fund.
"Obviously we want it to get more. It can be more," she says.
Now there's a plan for families to increase the help they get next year. Families who sell more gift cards  purchased through the fund may see their award more than double next year. "nearly all of our families who are our top-sellers get help from family and friends. It's not that hard to use a lot of cards when you buy groceries and gas," Grawe says.
In six years, the Gene Grawe Fund has provided $594,750 in tuition assistance to Quincy families.
Every family wanting to be part of the program needs to complete a new registration. The gift cards are available year-round at schools and parishes, as well as many activities.
Many area businesses, and hundreds of national merchants, are now involved in the program, named after JoAnn's father, with businesses some providing as much as a 20% kickback for gift cards purchased through the Gene Grawe Fund. The program grows each year.
Along with the gift cards, many participants support the fund through on-line purchases through www.onecause.com. Once shoppers register under the Gene Grawe Fund, any purchases through hundreds of additional merchants add money to the annual award.
"I hope it's something we can continue to do for a very long time," Witte says.
Until then, Witte's phone will ring day and night, and she knows that it is either a happy family or a potential gift card buyer wanting to talk to her. Those are nice conversations. JoAnn is helping promote Catholic education, one phone call, and one gift card, at a time.